These are some notes about the Xerox Altalink C8055 printer at MATH, known as 1530-201-c-1.
Windows
The printer is installed via \\prt11.uni.au.dk\ (the Install Printer icon on AU PCs).
Booklets on Windows
Caveat: If you need to print a booklet, you'll need to be a bit careful!
DO NOT USE THE BOOKLET IN ADOBE READER/ACROBAT. It cannot fold and staple.
Do a normal print in Adobe Reader/Acrobat, then choose Printer Properties
Here you can choose Booklet Creation as a finishing option. This does the right job (using Booklet fold and staple).
Note if you choose Booklet in AR/A and in the printer properties, you'll end up with A6 on folded A4 instead of A5 on folded A4.
Do not use this option:
General for Mac and Linux
Be careful about installing the driver from the manufactorer. We have observed the driver install programme attempting to do a port scan searching for the printer (to ask it which extra options it has). AU does not allow PCs to talk to the printer directly, so that scanning would fail.
Unless you need special options, like stapeling etc, you do not need a driver to use this printer. Just install it as a generic postscript printer, and remember to tell it afterwards that the printer supports duplex printing (double sided).
If you need the driver, you'll need to email Lars Madsen (daleif@math.au.dk).
The file will be a PPD.GZ. It is usable directly on Mac, and needs to be unpacked on Linux (via gunzip).
Mac
Installation
We need to place the driver in the correct location as Super User. For example using
sudo cp file.ppd.gz /Library/Printers/PPDs/Contents/Resources/
Next, restart AU Utility (the AU Icon in your top bar you normally use the install AU printers).
Install the printer (1530-201-c-1) via AU Utility. When asked for a driver, choose the one for Xerox Altalink C8055 (due to a misconfiguration, 1530-201-c-1 reports the wrong model, and thus AU Utility cannot suggest the correct driver).
Printing bookets using Adobe Reader/Acrobat on a Mac
Contrary to on Windows, on Mac we need to use Booklet setup in AR/A plus Booklet Fold and Staple (not just Booklet Fold and Staple).
This is probably because we are using a driver that does not use the Xerox filters.
Next, choose "Printer..." at the bottom,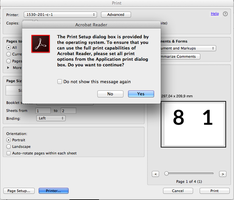 Go to "Feature sets: Finishing Options" and choose "Booklet Fold and Staple".
Linux
Installation
At AU when printing on department printers (only for employees), you need to specify username and password when you print (then the server at the other end will determine if you have the proper access). Since 2020 there have been an issue with Ubuntu and other Linux dist where the configuration line about "prompt for username/password" is never written to the printer configuration file after installing a new printer via the GUI. It can be fixed manually, or you can instead install the printer using a small new tool that we have made.
Contact Lars Madsen (daleif@math.au.dk) for details, or if you need the driver.
Booklets from Linux
Currently we have no good solution to make booklets from Linux, especially since Adobe Reader/Acrobat is no longer provided for Linux